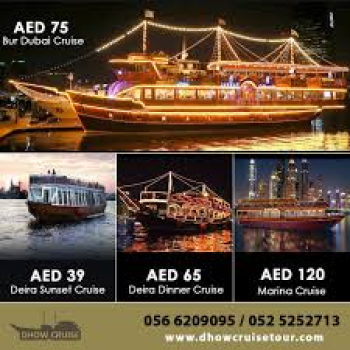 Dhow cruise Dubai
About Dinner Dhow Cruise in Dubai: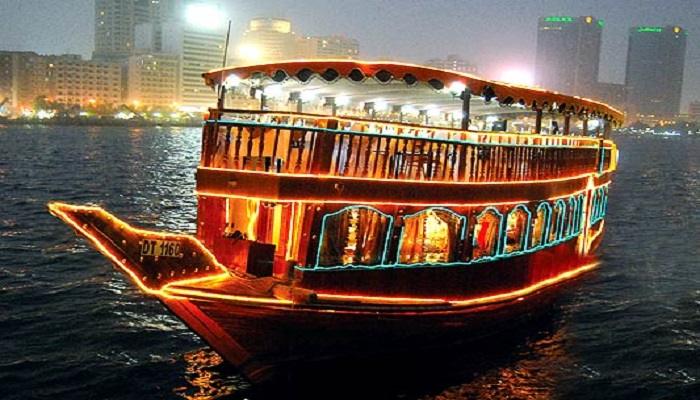 Dubai is known for its luxurious lifestyle and extravagant activities, and one of the most popular activities is the Dhow Cruise Dubai. A dhow is a traditional Arabic boat made of wood, which was used for trading in the past. Today, the dhow has been transformed into a floating restaurant, which takes you on a journey of Dubai's magnificent skyline and the beautiful Arabian Gulf.
The Dhow Cruise Dubai is a unique experience that lets you enjoy the scenic views of Dubai from the water while indulging buffet dinner and entertainment shows. Here are some of the highlights of the Dinner Dhow Cruise Dubai:
Dhow Cruise Stunning Signseeing Views:

The Dhow Cruise Dubai takes you on a journey through Dubai Creek, which is surrounded by stunning skyscrapers and historic buildings. The views of Dubai's skyline from the water are breathtaking, especially at night when the city is lit up with dazzling lights. Dhow Cruises are located at Dubai Deira Creek, Dubai marina, Dubai Water Canal and Festival City.


Buffet Delicious Dinner:

The Dhow Cruise Dubai offers a wide variety of cuisines to cater to every taste bud. You can choose from traditional Arabic dishes to international cuisines like Italian, Chinese, and Indian. The food is prepared fresh in kitchen/ hotel/ restaurants by experienced chefs and is of the highest quality.
Live Entertainment:

The Dhow Cruise Dubai offers live entertainment like traditional Tanoura dance, magic shows, puppet shows and live music. The performers onboard are highly skilled and add to the overall experience of the cruise.
Romantic Atmosphere:

The Dhow Cruise Dubai is the perfect place for a romantic evening with your loved one. The peaceful atmosphere, stunning views, and delicious food make it a memorable experience.
Affordable Price:

Despite being a luxurious experience, the Dhow Cruise Dubai is surprisingly affordable. You can enjoy all the facilities and services onboard without breaking the bank.
In conclusion, the Dhow Cruise Dubai is an experience that should not be missed when visiting Dubai. It offers a unique perspective of the city from the water and provides an unforgettable dining experience. The combination of stunning views, delicious food, and live entertainment make it an ideal way to spend an evening in Dubai. Habibi Come to Dubai.
for booking visit: www.dhowcruisetour.com or whatsapp +971525252713 or +971566209095