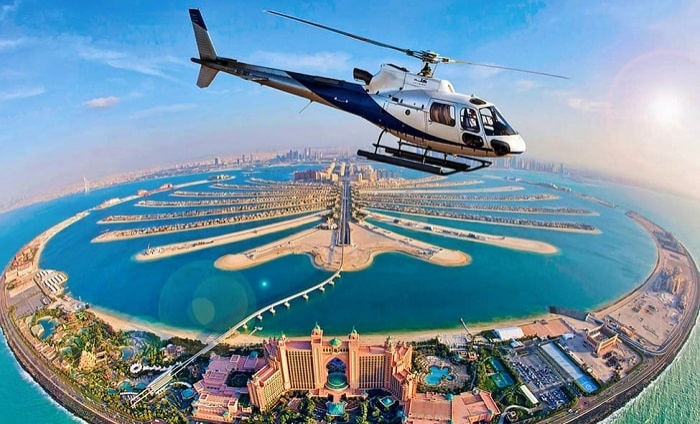 Dubai helicopter tour price
About Dubai Helicopter
A life time experience, Dubai helicopter tour is a unique and exciting way to see the city from above. You can experience stunning aerial views of Dubai's iconic landmarks, such as the Burj Khalifa, the Palm Jumeirah, and the Dubai Marina. Helicopter tours in Dubai typically last between 12 to 60 minutes, depending on the tour package you choose. and many other famous attractions.
During the tour, you will fly over Dubai's impressive skyline and get a bird's eye view of its magnificent architecture and cityscape. You'll also be able to see some of the most beautiful natural attractions in the region, such as the Dubai Creek and the Arabian Gulf.
There are 2 helipads in Dubai which are Dubai police academy and Atlantis the Palm, both sharing and privite basis bookings available depending upon customers prefrence and budget.
Before booking a helicopter tour, make sure to check the weather conditions and book in advance to secure your spot otherwise it s can be rescheduled or full refund in case of bad weather. Also, be sure to bring your phone to use camera to capture the stunning views from above!
boarding is 45 minutues beofre the flight to reach helipad for weight in, check in and a safety briefing while during flight to be provided with a headset so that you can communicate with the pilot and hear commentary on the sights you're seeing.
hotel pick-up and drop-off services also available with additional cost within Dubai, making it easy for you to get to and from the helipad.
Dubai helicopter tours are a unique and unforgettable way to experience the beauty of this iconic city.

conclusion: the helicopter is a unique and luxurious product that offers visitors an unforgettable experience of Dubai's stunning skyline.
for booking visit: www.helicoptertour.ae or whatsapp on +971525252713 or +971566209095