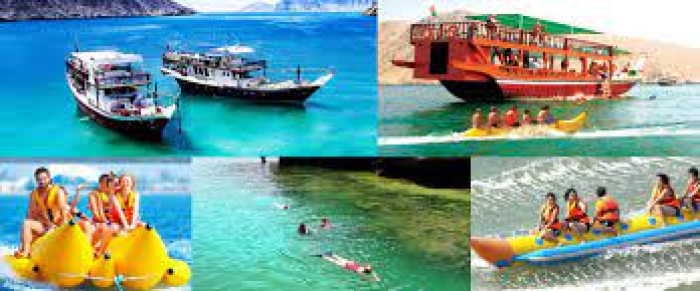 musandam dibba
About musandam dibba trip:

Musandam Dibba is a popular tourist destination located in the Musandam Peninsula, Oman. It is known for its beautiful landscapes, crystal clear waters, and diverse marine life, making it a popular spot for water activities and scenic tours.
One of the main attractions in Musandam Dibba is the traditional Dhow cruise. The Dhow cruise takes visitors along the beautiful trip of Musandam, providing a breathtaking view of the rugged mountains and crystal clear waters. During the cruise, visitors can also enjoy activities such as swimming, snorkeling, and fishing, as well as a sumptuous buffet lunch on board.
Musandam Dibba is also known for its unique underwater world, which makes it a popular spot for diving and snorkeling. The waters around Musandam Dibba are home to a variety of marine life, including colorful fish, sea turtles, and coral reefs, making it a perfect spot for underwater photography and exploration.
Another popular activity in Musandam Dibba is the Banana Boat ride. This ride is a fun and exciting way to enjoy the waters and waves of Musandam Dibba, with visitors being pulled by a speedboat while riding a banana-shaped inflatable tube.
Visitors to Musandam Dibba can also explore the traditional Omani village and its rich culture. The village is home to traditional houses, marketplaces, and mosques, providing a glimpse into the traditional way of life in Oman.
In conclusion, Musandam Dibba is a beautiful destination that offers a wide range of activities for visitors. From traditional Dhow cruises to snorkeling and diving, banana boat rides, and exploring the local culture, Musandam Dibba has something to offer for everyone. It is a must-visit destination for anyone traveling to Oman or looking for an unforgettable experience in the Arabian Gulf.
For booking please vist: www.hellotours.ae or whatsapp +971525252713 and +971566209095
Many Thanks for reading the blog.