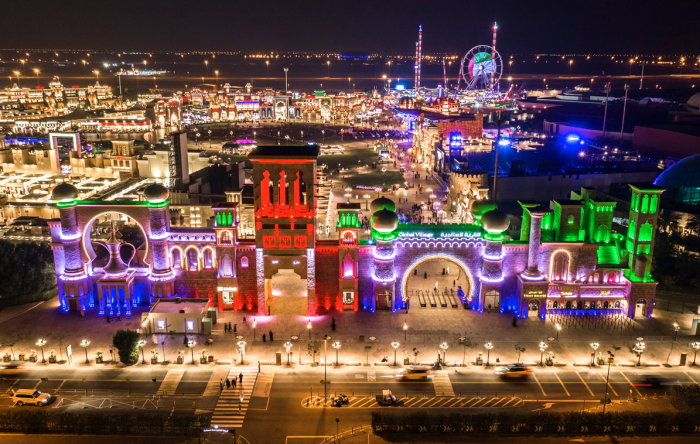 Dubai global village
About Dubai Global Village: A Celebration of World Cultures
Dubai Global Village is a one-of-a-kind cultural extravaganza that has become a prominent landmark in the city of Dubai, known for its cosmopolitan lifestyle and diverse tourist attractions. Located in the heart of Dubai, Global Village is a seasonal open-air entertainment destination that celebrates the rich diversity of cultures from around the world. It offers visitors a unique opportunity to experience the sights, sounds, flavors, and traditions of various countries in a vibrant and festive atmosphere. With its immersive cultural showcases, thrilling rides, live performances, and international culinary offerings, Dubai Global Village has become a must-visit destination for tourists and residents alike.
History and Evolution
Dubai Global Village was first launched in 1996 as a small-scale event with the aim of promoting cultural exchange and trade between different countries. Over the years, it has grown into a world-class destination that attracts millions of visitors annually. The event takes place during the winter months in Dubai, usually from October to April, making it a popular seasonal attraction for tourists and residents to enjoy the pleasant weather.
The concept of Global Village is inspired by the traditional bazaars and markets that are found in various countries, where people come together to showcase their local products, arts, and culture. The event is organized as a multicultural showcase, with each participating country having its own pavilion that represents its unique culture, traditions, and products. The pavilions are designed with intricate architecture and decor that reflect the cultural heritage of each country, creating a visually stunning experience for visitors.
Over the years, Global Village has expanded in size and scope, hosting more countries, attractions, and activities. Today, it covers an area of over 1.6 million square feet and features pavilions representing more than 90 countries from around the world, making it one of the largest cultural festivals of its kind. The event has also become a platform for international trade and commerce, with many countries showcasing and selling their products, ranging from handicrafts and textiles to spices and food items.
Cultural Showcases
The cultural showcases are the heart and soul of Dubai Global Village, offering visitors a unique opportunity to experience the rich heritage and traditions of different countries in one place. Each pavilion represents a country and offers a glimpse into its culture, history, art, and lifestyle. The pavilions are designed to reflect the distinctive architecture, decor, and ambiance of each country, creating an immersive experience for visitors.
The cultural showcases at Global Village feature a wide range of activities and exhibits that highlight the unique aspects of each country's culture. These may include traditional music and dance performances, cultural shows, art and handicraft displays, and interactive exhibits that showcase the country's history, customs, and traditions. Visitors can learn about the traditional costumes, cuisine, rituals, and folklore of various countries, providing an enriching educational experience about different cultures from around the world.
One of the highlights of the cultural showcases at Global Village is the live performances that take place on the main stage. From traditional music and dance performances to contemporary acts, the stage comes alive with a diverse range of talent from around the world. Visitors can witness breathtaking performances of different dance forms, such as Bollywood, hip-hop, ballet, flamenco, and more. The performances showcase the richness and diversity of global cultures, providing a visual and auditory treat for the senses.
Another popular aspect of the cultural showcases at Global Village is the arts and handicrafts displays. Many countries showcase their unique arts and crafts, including traditional textiles, pottery, jewelry, paintings, and sculptures. Visitors can marvel at the intricate craftsmanship and creativity of these handcrafted items, and even purchase them as souvenirs or gifts. The arts and handicrafts displays provide a platform for artisans and craftsmen
For booking visit: www.hellotours.ae or whatsup on +971525252713 and +971566209095