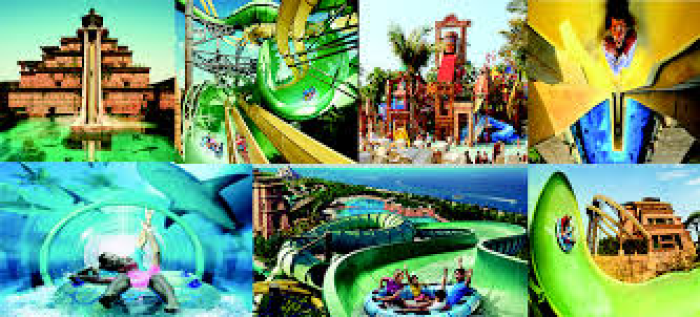 Dubai water park and resort
About Dubai water parks and Resort:
Dubai, is a city that boasts an array of world-class attractions, and its water parks and resorts are no exception. Offering a respite from the scorching desert heat, Dubai's water parks and resorts are a haven for thrill-seekers, families, and tourists alike, providing a refreshing and exciting escape from the bustling city.
Dubai is home to several renowned water parks and resorts, each offering its unique features, rides, and experiences. Let's take a closer look at some of the prominent water parks and resorts in Dubai.
Aquaventure Waterpark:
Located at the iconic Atlantis, The Palm, Aquaventure Waterpark is one of the largest water parks in the Middle East. Spanning over 17 hectares, this award-winning water park is known for its thrilling water slides, exhilarating rides, and stunning marine experiences. From the heart-stopping Leap of Faith slide that plunges riders through a shark-infested lagoon to the exhilarating Poseidon's Revenge slide that drops riders through a trapdoor, Aquaventure offers adrenaline-pumping adventures for daredevils. The park also features a private beach, a lazy river, and a dedicated kids' play area, making it suitable for visitors of all ages. With its impressive attractions and scenic views of the Arabian Gulf, Aquaventure Waterpark is a must-visit destination for water park enthusiasts.

Wild Wadi Waterpark:
Located in the vibrant Jumeirah area, Wild Wadi Waterpark is another popular water park in Dubai. Themed around the tale of Juha, a character from Arabian folklore, Wild Wadi Waterpark offers a range of thrilling rides, slides, and attractions. From the exciting Jumeirah Sceirah, a tandem slide that reaches speeds of up to 80 km/h, to the Wipeout and Riptide Flowriders that provide surfing experiences, Wild Wadi Waterpark is a haven for adrenaline junkies. The park also offers a lazy river, wave pools, and play areas for younger visitors, ensuring a fun-filled day for the whole family.
Legoland Water Park:
A perfect destination for families with young kids, Legoland Water Park is located at Dubai Parks and Resorts, a mega entertainment complex that also includes Legoland Dubai, Motiongate Dubai, and Bollywood Parks Dubai. Legoland Water Park offers a unique experience for Lego fans, with its themed attractions, rides, and play areas. Kids can splash around in the Duplo Splash Safari, build their own rafts at Build-A-Raft River, and enjoy interactive water play at the Joker Soaker. The park also features a wave pool, mini slides, and a lazy river, making it an ideal destination for families with younger children.
Laguna Waterpark:
Situated at La Mer, a trendy beachfront destination in Dubai, Laguna Waterpark offers a relaxed and laid-back atmosphere. With its beach club vibe, Laguna Waterpark features a variety of thrilling slides, including the Free Fall, Manta, and Constrictor slides, as well as a lazy river, a splash pad, and a designated play area for younger kids. The park also offers beach access, allowing visitors to enjoy the sun, sand, and surf, making it a unique blend of a water park and a beach destination.
Splash Pad Dubai:
As the first standalone splash pad in the UAE, Splash Pad Dubai is a water play area designed for younger kids. Located at The Beach, a popular waterfront destination in Dubai, Splash Pad Dubai offers a safe and interactive water play experience for toddlers and young children. The play area features water fountains, spray nozzles, and splash pads, providing a fun and engaging.

For booking please vist: www.hellotours.ae or whatsapp +971525252713 and +971566209095
Many Thanks for reading the blog.