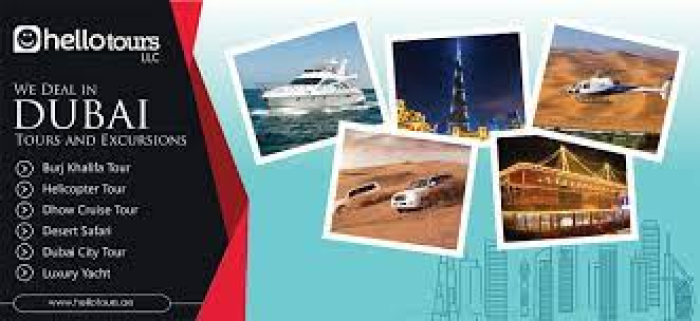 Hello Tours LLC Dubai
Hello Tours LLC Dubai: Unveiling the Essence of Extraordinary Travel Experiences
1: Introduction:

Hello Tours LLC Dubai is a renowned travel agency that has carved a niche for itself in providing exceptional travel experiences in one of the world's most vibrant and luxurious destinations. With its commitment to excellence, personalized service, and meticulous attention to detail, Hello Tours LLC has become a trusted name in the industry, catering to discerning travelers seeking unforgettable adventures in Dubai.
2: Unparalleled Expertise:
At the heart of Hello Tours LLC Dubai is a team of experienced travel professionals who possess an in-depth knowledge of the city, its culture, and its hidden gems. They are well-equipped to curate tailor-made itineraries, ensuring that each client's preferences and desires are met with precision and creativity. Their expertise extends to various aspects of travel, including accommodation, transportation, sightseeing, and more.
3: Wide Range of Experiences:

Hello Tours LLC Dubai offers an extensive range of experiences that cater to different interests and preferences. Whether you are seeking an adrenaline-filled desert safari, a serene cruise along Dubai Creek, an immersive cultural tour, or a luxurious shopping extravaganza, Hello Tours LLC has the perfect itinerary to suit your needs. They go above and beyond to ensure that every moment of your journey is infused with wonder and delight.
4: Unmatched Attention to Detail:

What sets Hello Tours LLC Dubai apart is their commitment to delivering flawless and unforgettable experiences. They meticulously plan and execute each aspect of the trip, from airport transfers to accommodation, guided tours, and dining arrangements. With their meticulous attention to detail, they strive to exceed expectations and create cherished memories for their clients.
5: Personalized Service:

Hello Tours LLC Dubai understands that each traveler is unique, and they pride themselves on providing personalized service. They take the time to understand your preferences, interests, and requirements, tailoring every aspect of your journey to ensure it aligns perfectly with your expectations. Their dedicated team is available around the clock to address any queries or concerns, ensuring a seamless and stress-free travel experience.
6: Customer Satisfaction:

Hello Tours LLC Dubai prioritizes customer satisfaction above all else. Their commitment to excellence is reflected in the countless positive reviews and testimonials from their satisfied clients. They consistently strive to go the extra mile, ensuring that every aspect of your journey exceeds your expectations. From the moment you arrive in Dubai until the day of your departure, Hello Tours LLC Dubai is dedicated to providing exceptional service and creating lasting memories.
Conclusion:
Hello Tours LLC Dubai stands as a beacon of excellence in the travel industry, epitomizing the true spirit of luxury, professionalism, and personalized service. With their extensive knowledge, attention to detail, and commitment to customer satisfaction, they ensure that every traveler embarking on a journey with them experiences the very best that Dubai has to offer. Trust Hello Tours LLC Dubai to unlock the magic of this enchanting city and make your travel dreams a reality.